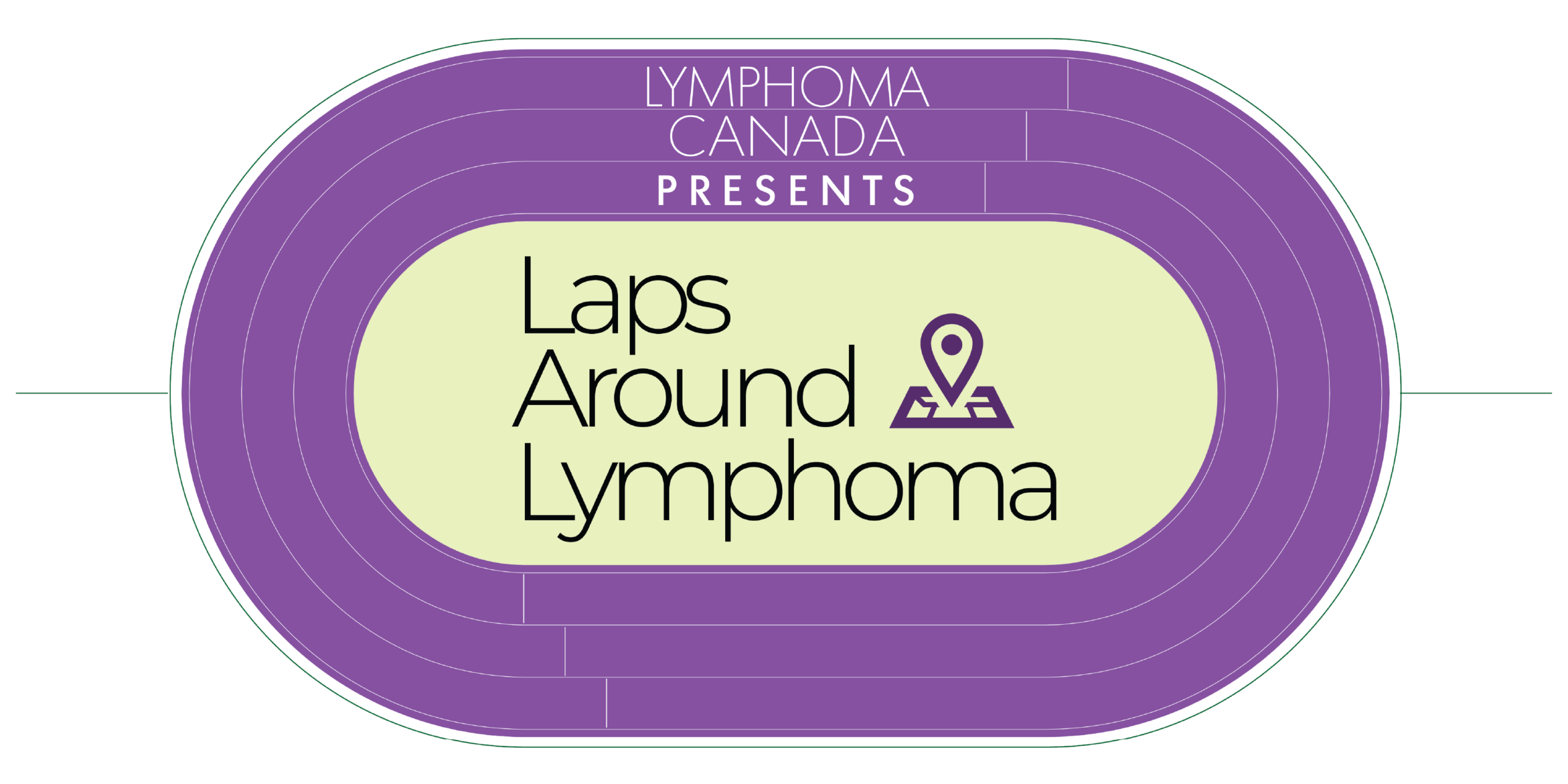 We challenge you to take 100,000 steps in support of the over 100,000 Canadians currently living with lymphoma.
Lymphoma affects many people, from patients, families, and caregivers, to medical professionals, and researchers. Lymphoma Canada connects and empowers this community through education, support, advocacy, and research.
---
Who:  Anyone across Canada can register or support a participant.
What:  This is a fitness challenge to raise awareness of lymphoma and funds for lymphoma programs and resources. Participants are challenged to take 100,000 steps in honour of the 100,000 Canadians currently living with lymphoma. Prizes are available for those who take the most steps and for those who fundraise the most.
This year we are introducing the option to register as either a lymphoma patient or community participant. Prizes are available for top racers in both registration categories. We ask that if you are undergoing treatment, are in recovery, or currently identify as a lymphoma patient in any way that you select this category. All other supporters are invited to register as a community participant.
When: September 15 ‐ September 30
Where: Anywhere across our beautiful country.
Why: Get fit. Win prizes. Help lymphoma patients.
Funds from Laps Around Lymphoma will help to provide support for patients and their families, educational resources, such as webinars and lymphoma subtype information, advocate for equal access to innovative therapies across Canada and help to fund lymphoma research.
Join the Challenge
---
Early Bird Competitions
1.  Early Registration
Register by July 31 and receive entry into our draw for a Lululemon and Saje recovery kit.
Draw Date: July 31, 2022
Prize: Lululemon and Saje recovery kit
2.  Early Fundraising
Fundraise the most for Laps Around Lymphoma by July 31 and win a $50 Lole gift card.
Winner Announced: July 31, 2022
Prize: $50 Lole gift card
3. Best Purple Picture
Show us how you're preparing for this year's LAL challenge. Post an image of your running gear, walking group, or purple pride on social media and include #LapsAroundLymphoma. Every post made by September 14, will be entered into our draw to win a Lenovo Smart Clock Essential With Google Assistant.
Draw Date: September 14, 2022
Prize: Lenovo Smart Clock Essential with Google Assistant

How it Works:
1.  Register for the event and select your registration type – either community participant or patient participant.
2. Develop a compelling personal fundraising page! Update your photo and personal message.
3. Reach out to your entire network for donations, ask your friends, family, and co-workers! But always say thank you!
4. A link to connect to the virtual racetrack will be shared with you in your confirmation email. Follow this link to access the MoveSpring app.
5. Enter lal in the organization code field and confirm Lymphoma Canada as the organization associated with your registration.
6. Create your profile, then select a fun avatar photo and username!
7. Connect your Smartphone or other fitness devices to our MoveSpring virtual racetrack. Compatible devices include; Fitbit, Apple Watch, iPhone, Apple Health, Wear OS by Google, Android, Google Fit, Garmin, Withings, and Misfit. Connect your device by clicking on the notification 'no device found,' and then following the prompts to authenticate your device. Once complete, you will be able to monitor your movement on our virtual track starting September 15.
If you don't want to race virtually, you can still challenge yourself to take 100,000 steps this September and fundraise for lymphoma patients.
8. GET MOVING! Compete to be the first to complete 100,000 steps (76km) and raise funds for lymphoma patients. A complete list of prizes can be found below.
Share:
Share photos and videos of your activity on MoveSpring and social media using the hashtag #LapsAroundLymphoma.
Support:
Every year thousands of people in Canada are diagnosed with lymphoma – let's do what we can to advocate for better treatment options, invest in research, to educate and bring awareness about the disease.

Top Challenger Prizes:*
Patient Participants
These prizes will be awarded to the top three patient challengers.
1st Place – Apple Watch Series 7
2nd Place – Samsung Galaxy Tablet
3rd Place – $100 Indigo Gift Card
Community Participants
These prizes will be awarded to the top three community challengers.
1st Place – Apple Watch Series 7
2nd Place – Samsung Galaxy Tablet
3rd Place – $100 Indigo Gift Card
Top Fundraiser Prizes:*
These prizes will be awarded to our top fundraisers.
1st Place – Apple iPad Air 10.9″ 256GB (4th Generation) – Space Grey
2nd Place – Oculus Quest 2
3rd Place – Google Nest Doorbell (Wired) Wi-Fi Video Doorbell – Black/White
4th Place – $100 Amazon Gift Card
5th Place – $50 Indigo Gift Card
LYMPHOMA PATIENT INFORMATION
At Lymphoma Canada, we strive to provide lymphoma cancer patients with information to better inform decisions regarding diagnosis and care. If you or a loved one have recently been diagnosed with lymphoma, you probably have many questions about the disease. Our Patient Resource Manuals help you to understand the nature of lymphoma and what to expect from treatments, including any possible side effects. The more you know about your disease, the more confident you will be when making decisions with your doctor about your care and wellbeing. Access a digital copy of our Patient Resource Manuals by lymphoma subtype. Make your selection from the list below.
PATIENT RESOURCE MANUALS
Download your copy by clicking on the resource name.
Promotion of Lymphoma Canada's educational materials during Laps Around Lymphoma is made possible through the generous support of our education sponsors.
Get fit, win prizes, and help lymphoma patients. Walk Laps Around Lymphoma!
* Prizes may be subject to change based on availability.
Join the Challenge

Laps Around Lymphoma is Brought to you By: